Through monitoring activities on the internet, in recent times, the Criminal Police Department of Hà Tĩnh Province has discovered that high school and college students, as well as workers from factories, enterprises, officers, and civil servants, have been participating in online gambling on social media platforms using various card games that offer rewards.
Focusing on investigation and verification, the police authorities have uncovered an online gambling network operating through the internet with different forms such as lottery, card games on the website fbslive.com and the FBS application, and sports betting…
By applying synchronized operational measures, the police have identified this as an organized criminal network involved in gambling activities, masterminded by Chinese individuals abroad, who have connections with many domestic individuals to engage in professional gambling crimes across multiple locations nationwide, including Hà Tĩnh, Nghệ An, Hà Nội, Thái Nguyên, Thái Bình, Nam Định, Ho Chi Minh City, Đồng Nai, and Bến Tre…
Preliminary investigations by the police have identified that this gambling network operates by having Chinese individuals (the developers) hire people to create the fbslive.com website and the FBS application, thereby forming a gambling system.
The "fbslive.com" gambling system is an online gambling gateway that operates on the Android, iOS, and Windows operating systems, which can be used on devices such as smartphones, tablets, and computers…
The fbslive system incorporates various games such as dice, lottery, roulette, betting, and uses virtual currency (called coins) with the exchange rate of 1 coin equivalent to 1,000 Vietnamese Dong for players to purchase and place bets in fbslive's games. This gambling platform allows individuals to deposit and withdraw money to their bank accounts for gambling purposes.
To operate the system and attract gamblers, the "house" will recruit different departments such as the technical department responsible for running the website and application, resolving technical issues related to login and betting on the system; the management and support department for money transfers on the system; the customer care department responsible for handling player complaints; and the direct application department to recruit and support gamblers…
Among these, in Vietnam, the police have identified some individuals who are Vietnamese nationals operating in Thái Nguyên, Hà Nội, Nam Định, Thái Bình, Bắc Giang, and many other gamblers who directly participate in the aforementioned gambling network, fulfilling tasks related to customer care and live streaming of gambling applications.
Among them, the individual named Đàm Thị Hải Hà (born in 1993), residing in Kim Sơn commune, Sơn Tây town, Hà Nội, is responsible for the customer care department as well as recruiting and managing a team of employees for the direct application of gambling on the system.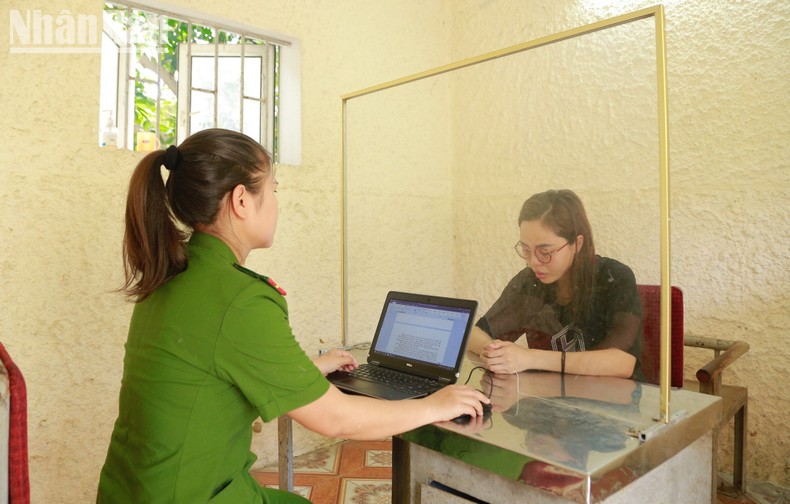 Đàm Thị Hải Hà at the police station.
After collecting sufficient evidence and documents regarding the criminal activities of the individuals involved, on July 21, 2023, the Criminal Police Department, in coordination with the Technical Department and the Police of Đức Thọ district and Vinh city (Nghệ An Province), conducted searches, arrests, and summons of 11 lower-level individuals in the organized gambling network operating within the territories of Hà Tĩnh and Nghệ An. During the searches, the authorities seized various relevant objects, documents, and electronic data related to the criminal activities.
Subsequently, on July 28, 2023, various task forces from the Hà Tĩnh Police in coordination with relevant units also conducted summonses and arrests of 9 other individuals in multiple locations such as Hà Tĩnh, Thái Nguyên, Hà Nội, Nam Định, Thái Bình, and Bắc Giang. During the searches, the authorities seized 2 livestream devices, 4 laptops, 13 mobile phones, 579 million in cash, and various other objects, documents, and electronic data.
At the police station, Đàm Thị Hải Hà admitted that she is responsible for the operations of the customer care department and recruitment of employees for the gambling activities in Vietnam, with her subordinate being Đàm Thị Minh Tâm (born in 1998), residing in Liên Bảo commune, Vụ Bản district, Nam Định, and Nguyễn Phú Vinh (born in 1986), residing in Gia Thụy ward, Prolonged Biên district, Hà Nội. Furthermore, Hà is the person in charge of direct communication with the Chinese individuals operating abroad to maintain the operation of the fbslive gambling system.
With the above operational methods, the police have determined that from the beginning of 2023 until now, the aforementioned organized gambling network has attracted gamblers nationwide to deposit over 100 billion Vietnamese Dong into the fbslive system.
The Provincial Criminal Investigation Department has decided to initiate a case and prosecute 19 suspects for "Gambling" and "Organizing Gambling" offenses.
In addition, the Criminal Police Department has summoned 15 other individuals with relevant connections to determine the level of their violations and handle them in accordance with the law.
Source: https://nhandan.vn/cong-an-ha-tinh-triet-pha-duong-day-danh-bac-qua-mang-quy-mo-hon-100-ty-dong-post770308.html